Camera & Video Accessory Rentals
Great audio/visual productions need the best equipment to ensure a top quality shoot, and Pro Gear Orlando is here to help.
In the heart of Florida, Pro Gear Orlando offers latest Audio Visual Equipment rentals the industry has to offer – from production monitors to gimbals, viewfinders, sliders and tripods. Our experienced staff are here to offer expert advice for all your production needs and inquiries.
All Audio & Video Equipment rentals require insurance to protect not only our equipment but also the renter.
Please refer to the Certificate of Insurance and Rental Account Agreement (to the right of this page) to have on file prior to the pick up of your rental.
Digital Cinema Cameras
Compared to traditional film stock cameras, digital cinema cameras do not rely on film. They are more commonly used domestically and on independent productions. DSLRs and Mirrorless Cameras are the most common types, and thanks to advancing technology and rental houses, they are now more easily affordable than ever.
For high-end video content, try the Canon EOS C300 Mark III or the Sony PXW-FS7 Super 35.
The Canon EOS C300 MK II allows 4K image data to be recorded internally onto CFast (2.0) cards. This makes it easy for users to record high quality compressed 4K images in the camera body without the need for external recorders.
Audio Video Rentals
Aside from the forefront of audio visual rental cameras, accessories such as monitors and transceivers are optimal for on-set communications and color correction. See beyond the restricted color and contrast of conventional monitoring, and enhance communication at your event production.
AV equipment like the Blackmagic 4K Video Assist monitor/recorder provides all of the features and functions needed for an accurate shoot, including touchscreen display with a 3400:1 contrast ratio, true blacks, and professional monitoring features such as waveform, histogram, vectorscope, and anamorphic de-squeeze, to name a few.
Camera Support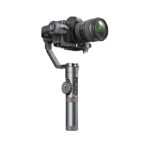 Don't leave out our go-to gimbals, stabilizers, and tripods, some of the hottest new tools in filmmaking! These must-have production equipment pieces provide stability and clarity to every shot, focusing on intuitive and synergistic designs. Paired alongside sliders, jibs, and dollies, our camera support items offer a wide variety of motions to create unique shots with minimal strain.
Our favorite stabilizer in the shop is the Zhiyun Crane II Gimbal. Featuring three different modes and a world of creative possibilities, the Crane II is a must-try production equipment piece to rent.
Looking for a simpler tool to meet both photography and videography needs? How about the Manfrotto 504 HD Fluid Head and 546 Tripod, an essential complete tripod system featuring a 75mm ball-leveling fluid head. It handles loads up to 44 lb while still operating smoothly at lower drag settings when using DSLRs and other lightweight cameras.
Dana Dolly
Whether you're an established professional or just getting started, the Dana Dolly is a great solution for adding production value to your shoot. Designed to be flexible, affordable, and easy to set up.
The Mitchell Mount can take all types of camera heads with included 75mm, 100, 150mm adapters. The sixteen- wheel design with floating trucks provides a smooth glide.
The track ends and center support use  1 1/4″ pipe as a track.  For convenience, Pro Gear Orlando offers a 9′ portable track kit in a hard case. Add a High Hat and Manfrotto 504HD Fluid Head and you have the Dana Dolly Complete Kit.
Lenses
Like Cinema Cameras, Lenses are an iconic element of Audio/Visual Productions that offer a variety of perspectives and effects tailored to meet your needs. Mix and match lenses and cameras, or rent kits altogether. Check out our lens page for more details!
Rental Requirements
In order to get you on your way without delay, we need the following from you:
Completely fill out and return the Rental Account Agreement.
Provide a copy of your current Driver's License and Credit Card (front & back).
Provide a Certificate of Insurance (see "Insurance" tab below).
Rental equipment must be returned in the manner it was rented.
Pro Gear Orlando requires customers to have a Certificate of Insurance (COI) on file.  Please be aware that there are many types of insurance and as such, a general Certificate of Liability will NOT protect you against damage, loss, or theft of rental photo equipment.  More often than not, insurance companies require a special provision, or "rider" to be placed on your existing policy to name specific articles to be insured. All policies submitted to Pro Gear Orlando are required to include at least the following:
Name Pro Gear Orlando the additionally insured or loss payee
Specifically state that the policy is for rented photo equipment (or equivalent verbiage)
Policy value is equal to, or greater than, the replacement value of the rented equipment
Commercial / Business policy (not personal policy)
Please feel free to download this sample policy to help explain the requirements.  The red text on the sample form hi-lights the important information required on a policy. The sample download form below has dollar amounts filled in that are required for equipment rental. Discuss with your insurance agency or agent, exactly what is covered and for what amount in your policy.
Q- How do I pick up or drop off equipment after business hours (currently 10:00-4:00 M-F due to COVID-19)
A- We respect your time as well as the time of our employees.  We will always make a satisfying arrangement based on time and logistics to make sure you complete your project.  Please make sure that we make arrangements to accommodate your schedule.
Q- Do you deliver equipment orders?
A- Our delivery fees are based on time of day, quantity of gear, and distance from our location.  Once we know when and where you need delivery, we can provide you a quote. We also require that a member of your crew be present for drop off and pick up. Rates quoted are for curb-side or dockside delivery only.  Please click for our Delivery Policies. 
Q- Do you provide shipping for  equipment rentals?
A- Our preferred shipper is Fedex. If you can provide us with a Fedex number, we are happy to ship your order. Please keep in mind, there is some items that are not suitable for shipping such as rolling stands and megabooms.
Q-If I do not have renters insurance, can I still rent equipment?
A- We will rent equipment without a Certificate of Insurance given you can provide a credit card for the replacement value of the items you are renting.  We hold that amount on your card during the duration of the rental. When your return your order, we will release the hold on your credit card minus the rental fee.